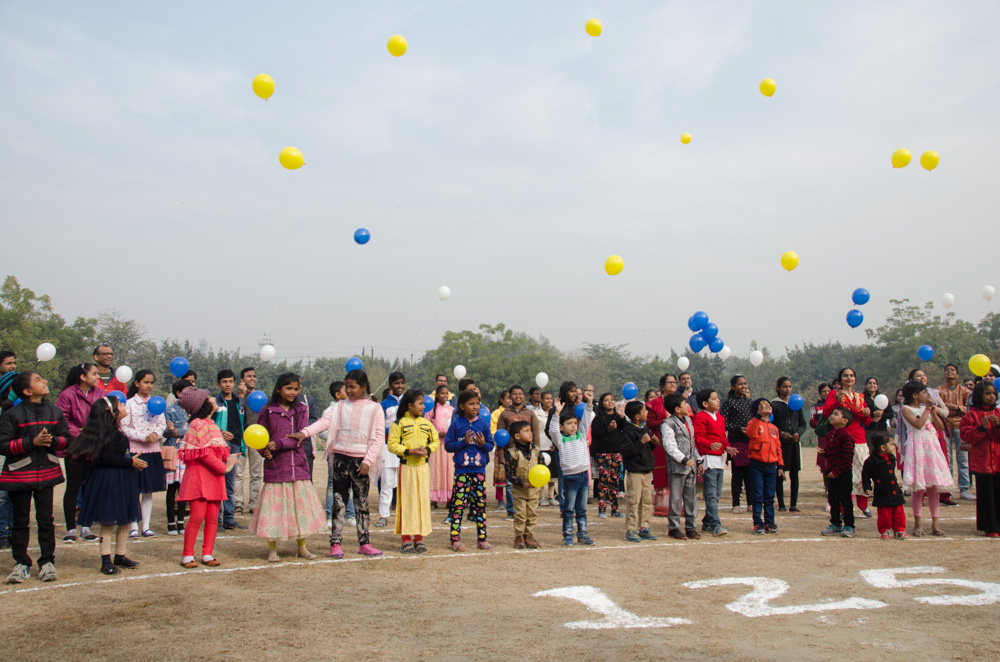 The 125th birth anniversary of Gurudeva Sri Sri Paramahansa Yogananda was celebrated by the Children Sunday Satsanga of YSS Noida Ashram on January 20, 2019. Around 95 children including those from the children satsanga as well as from Paramahansa Yogananda Swarna Bal Vatika (PYSBV) participated enthusiastically in this Janmotsav celebration. The programme included meditation, release of balloons and a cultural event. The children were accompanied by parents and devotees. Swami Sadananda and Brahmachari Vinayananda were present for the programme.
Beginning with Energization Exercises, the children were led outside the pandal for the release of balloons to commemorate Guruji's birth anniversary. On this occasion, balloons in three colours - yellow, blue and white were handed over to the kids, parents and volunteers. Brahmachari Vinayananda led with a prayer after offering incense at Guriji's altar. Releasing his set of coloured balloons, he beckoned the children and volunteers to release yellow, blue and white balloons in a sequence. The enthusiasm of the attendees was palpable with the loud jaikara of Gurudeva's name, as the balloons soared in the sky. The entourage made its way back into the pandal for meditation and the cultural activities that lay ahead.
Volunteers conducted the opening prayer and a brief period of chanting and meditation. They impressed upon the young minds the significance of the day - Gurudeva's Janmotsav - and drew their participation through a question-and-answer session on Guruji's life.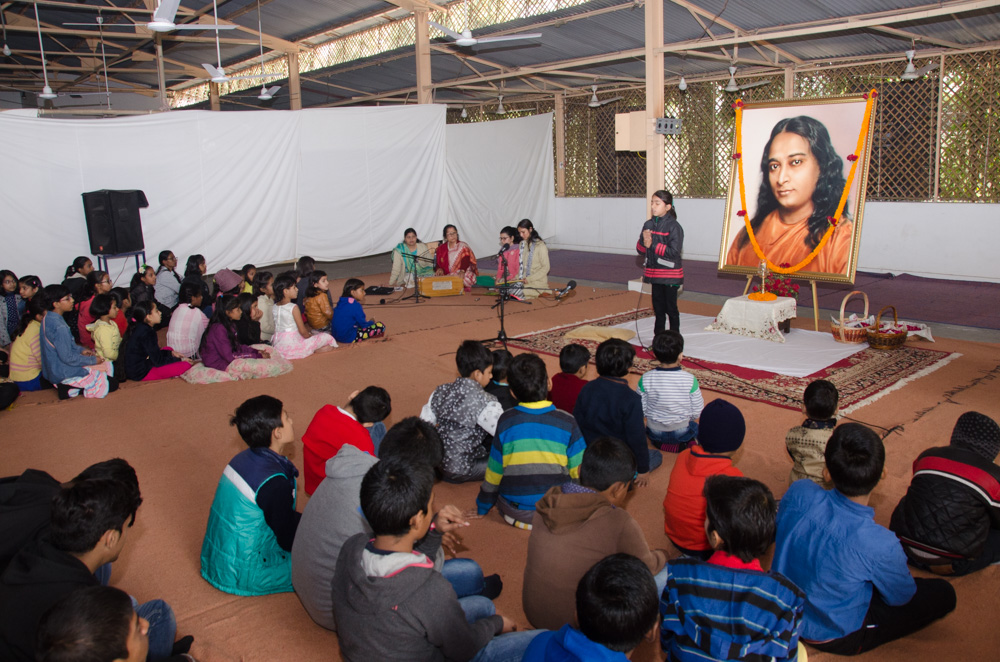 Two years ago, the Children Sunday Satsanga initiated the reading of the Autobiography of a Yogi for children at YSS Noida Ashram. Every Sunday, volunteers would share stories from Yoganandaji's Autobiography. To commemorate the completion of the reading of this spiritual classic, a story-telling competition from the same was organized for the younger and older kids. Fifteen kids came forth for the story-telling round, narrating Guruji's life events with factual accuracy and clarity of speech. It was most heartening to hear the anecdotes from Guruji's life from the junior group with kids under the age of eight years. Eighteen children participated in the chanting competition.
Senior volunteers selected the best performers who received awards from Swami Sadananda.
Brahmachari Vinayananda addressed the attendees appreciating their performance. He inspired the kids by assuring them that the joy of their participation went beyond the joy of those who were victorious.
The entire group joined in the chanting of bhajans. One by one, the children offered pushpanjali at the altar, and went on to receive food hampers carrying goodies as Gurudeva's "return gift" for the Janmotsav. All the attendees were served prasad at the Guru Langar.
To view images from the programme, click here.