---
Situated in the National Capital Region of Delhi, Yogoda Satsanga Sakha Ashram — Noida, is the youngest of the four YSS ashrams in India, dedicated to carrying on the spiritual and humanitarian work of Paramahansa Yogananda, widely revered as the "Father of Yoga in the West." His best-selling spiritual classic Autobiography of a Yogi has deeply inspired millions of people across the world, including the tech giant, Steve Jobs. In fact, this was the only book that Jobs had downloaded on his iPad, and in accordance with his last wishes, the book was handed out as his final gift during his memorial service.
"As I entered Noida ashram my mind became still as never before and I experienced deep peace. As I entered the Dhyana Mandir, I felt the unmistakable Aum vibration, which was also reverberating in the main pandal. Wherever I went, I could feel the tangible presence of Divine Mother and Gurudeva. I felt as if I was playing on their lap and was enveloped by their loving protection."

— A devotee's reflection on her Sangam experience at Noida ashram
Inaugurated on January 3, 2010, Noida ashram is a spiritual oasis in the heart of the I.T. hub of NCR — Noida, which has become an important destination for YSS/SRF devotees who come here for individual and group retreats for rejuvenation of their body, mind, and soul. Conducted group retreats centred around topics of spiritual help are organized throughout the year. Five-day Sadhana Sangams are conducted once or twice a year at the ashram. These are generally attended by about 350 devotees from all over the country who are accommodated within the ashram premises.
The ashram consists of an Administration Block (with a Meditation Hall, Reception, Book Room, Library, Counselling Rooms, Dining Hall, and Offices), two Retreat Blocks (separate for ladies and gents), a spacious Dhyana Mandir which has been recently renovated and grounds for exercise. A central garden resplendent with flowering trees and creepers, blossoms, emerald green lawns and lines of shady trees, evokes the sacred feeling of living in an ancient ashram set amidst sylvan surroundings, saturated with the timeless peace, bliss and wisdom of the ages.
---
YSS Noida Ashram is open on all days. All are welcome to join the group meditations and Sunday satsangas.
Reception Timings: 9:00 a.m. to 5:00 p.m.
Dhyana Mandir Timings: 7:00 a.m. to 7:00 p.m
---
Group and Individual Retreats
Conducted group retreats, led by YSS sannyasis, are held regularly, mostly over weekends. These spiritual retreats, generally spread over two to three days, consist of observing silence, morning and evening Energization Exercises and Group Meditation, a review of the techniques of concentration and meditation, and classes on Gurudeva's teachings and how-to-live principles.

Individual retreats are encouraged. Devotees can stay at the ashram for three to seven days and utilize this period for observing silence, introspection, spiritual reading, meditation, and for practising the presence of God.
---
Group Meditations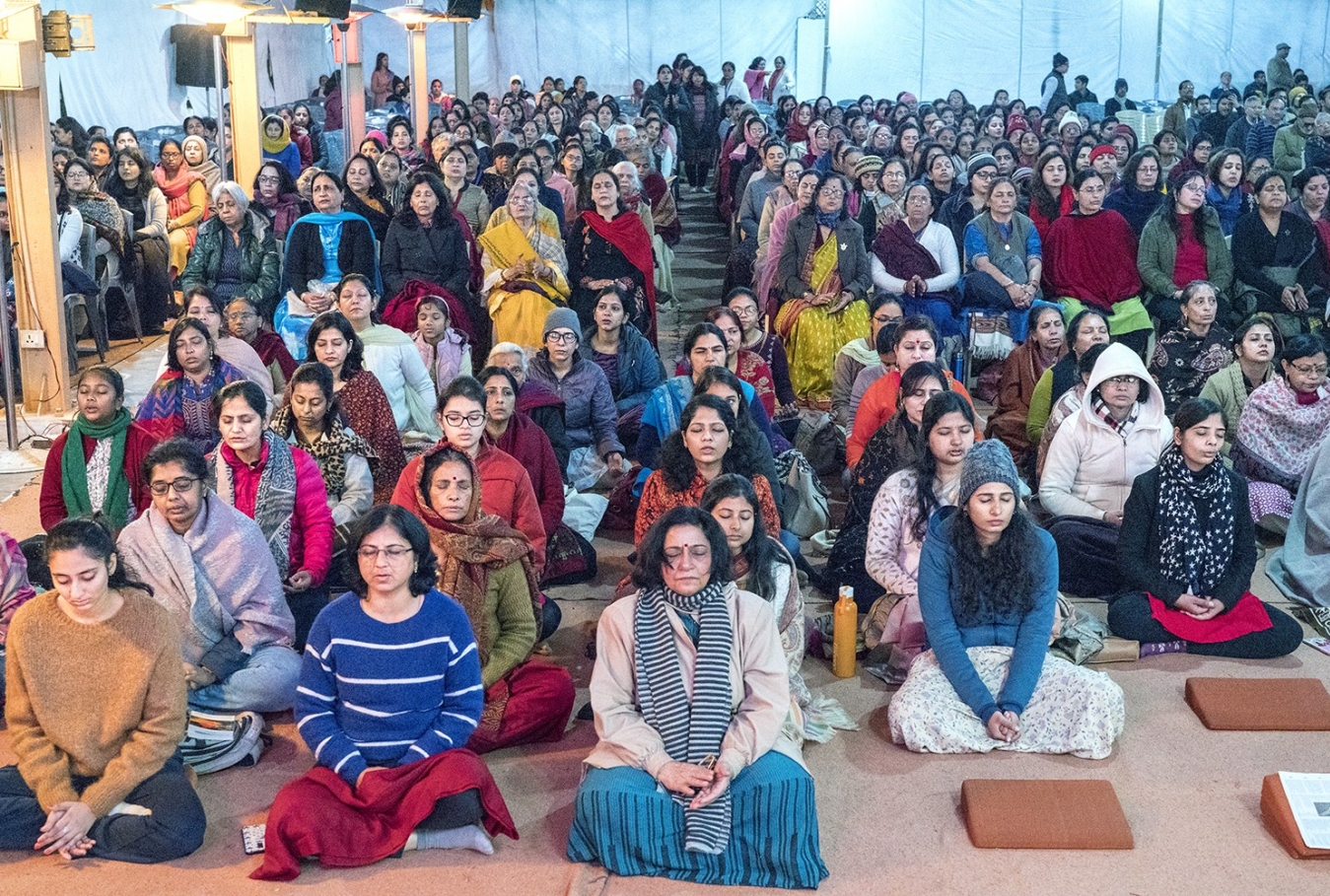 "Group meditation is a castle that protects the new spiritual aspirants as well as the veteran meditators. Meditating together increases the degree of Self-realization of each member of the group by the law of invisible vibratory exchange of group magnetism."
— Paramahansa Yogananda
The ashram has a spacious Dhyana Mandir, which has been recently renovated. The Dhyana Mandir is open for individual meditations from 7:00 a.m. to 7:00 p.m. Devotees are invited to join for group meditations, long meditations, and satsangas.
---
Children Satsanga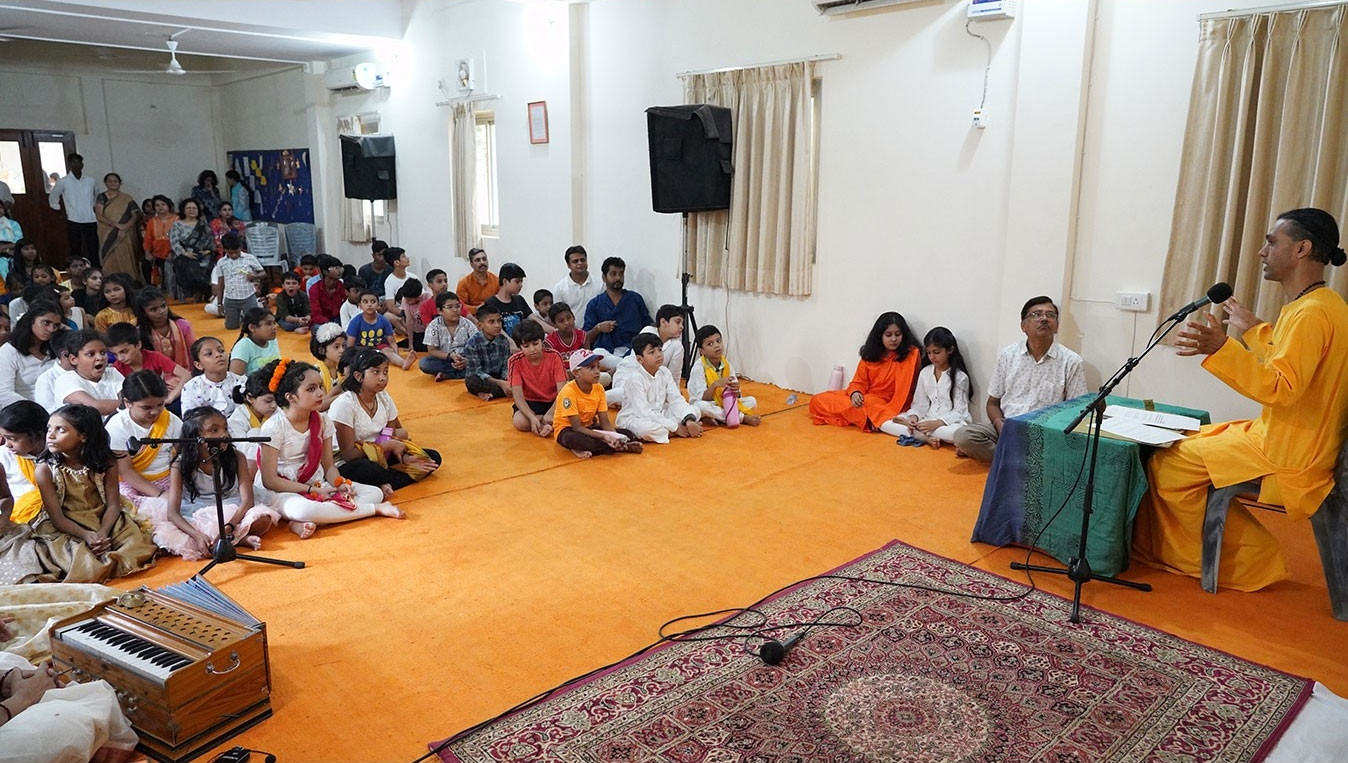 Devotees of YSS may bring their children from ages 5 to 12 years to YSS Noida Ashram for Children's satsanga on Sundays from 10:00 a.m. to 11:30 a.m.
This Sunday School is a great opportunity to share with your young ones Gurudeva Paramahansa Yoganandaji's how-to-live spiritual principles for children. Volunteers lead the little ones through a few Energization Exercises and a brief session of guided meditation. This is followed by a mix of interesting activities and story-telling sessions.
---
Charitable Activities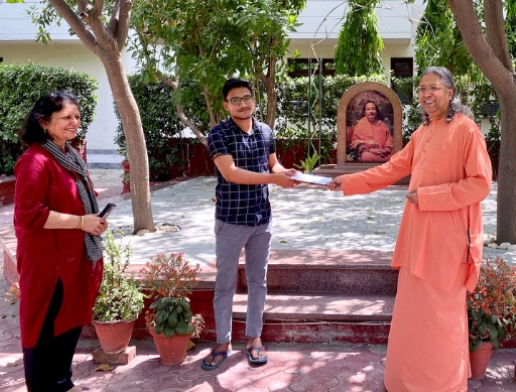 Noida ashram has been engaged in various charitable activities and relief work over the last few years. Offering educational support and medical care free of cost, the ashram runs a Free Coaching Centre and a Free Dispensary on its premises. Hundreds of patients and young students from the nearby slum areas and Khoda village utilise the services of these charitable centres being run with the aid of YSS volunteers — qualified and experienced doctors and teachers.
---
Book Room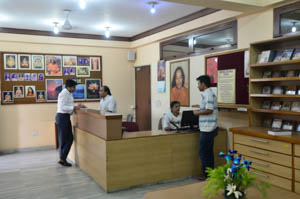 Book Room Timings

| Day | Book Room |
| --- | --- |
| Monday to Saturday | 9:00 a.m. to 5:00 p.m. |
| Sunday | 11:30 a.m. to 5:00 p.m. |
---
Contact Us
Yogoda Satsanga Sakha Ashram, Noida
Paramahansa Yogananda Marg
B – 4, Sector 62, NOIDA 201307
Dist. Gautambudhanagar, Uttar Pradesh
Phones: +91 (0120) 2400670 and 2400671; (M) 9899811808 and 9899811909
E-mail: [email protected]