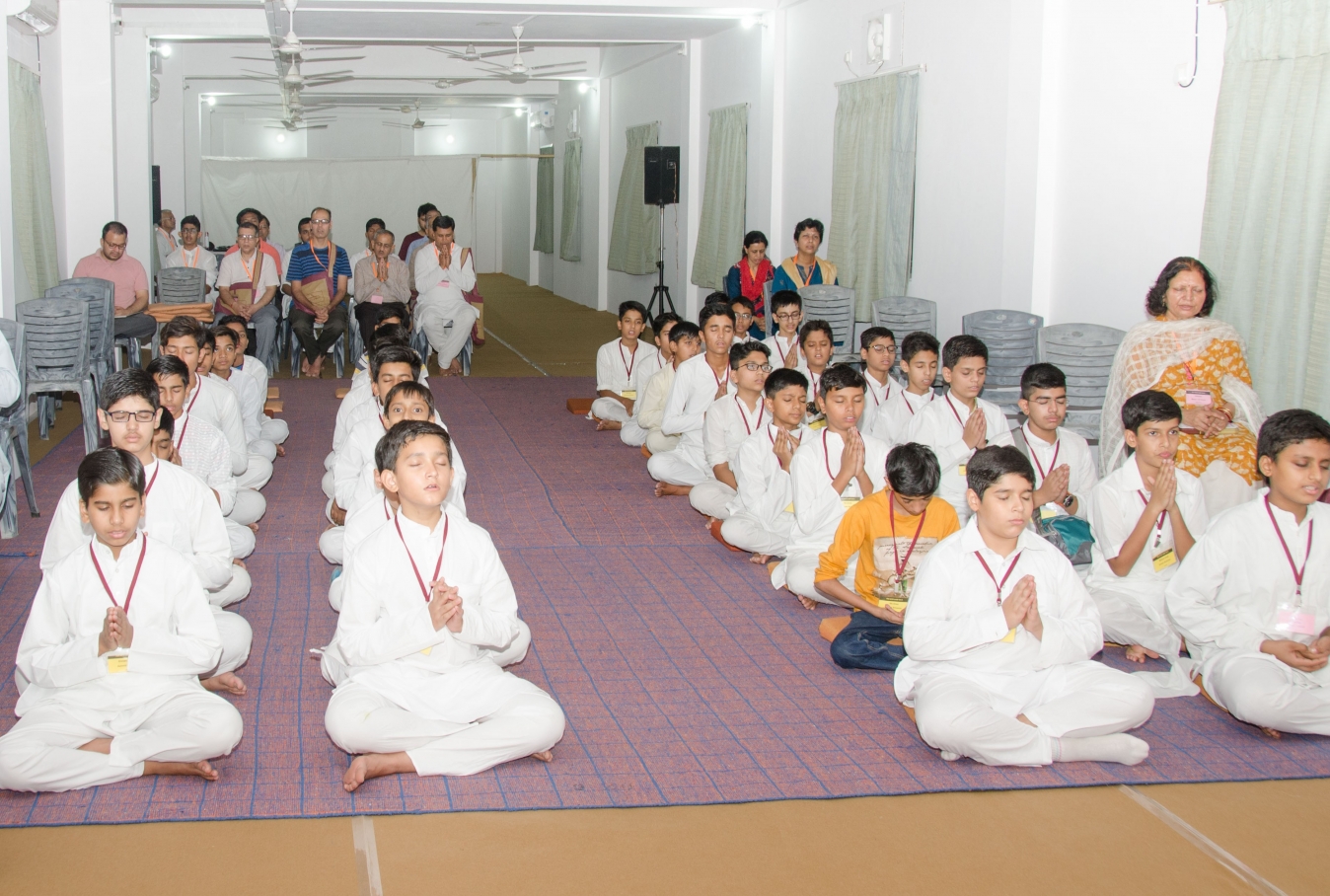 A summer Camp for boys studying in standards 7th and 8th was organized at YSS Noida Ashram from May 22 to May 26, 2019. These camps provide children with an opportunity to live in the ashram environment, participate in various group activities and learn about Gurudeva's How-to-Live principles.
Forty-three boys belonging to families of YSS devotees from all over India participated in the camp. Arriving on May 22, they joined an inaugural programme conducted by Swami Vasudevananda where he introduced them to the purpose of the camp and encouraged them to be receptive to what they were to learn at the camp – something quite different from their school syllabus. He emphasized the importance of prayers, when and how we should pray and that we should only make legitimate requests in prayers to God and Guru.
Brahmachari Sheelananda conducted the orientation of the children for the camp – the activity and daily schedules, as well as some do's and don'ts to be followed. The children received a stationery kit, a diary, schedules and Guruji's Cosmic Chants in English and Hindi, along with a T-shirt for sports.
During these five days, the young boys listened to the Guru Katha – the narration of stories from Guruji's life as mentioned in the Autobiography of a Yogi and Mejda, interspersed with kirtans. Boys were also taught 'Why and how to meditate.' Devotee-volunteers discussed 'Health and hygiene' and 'Getting along with others' during other classes. The children also learnt the Energization Exercises as taught by Paramahansa Yoganandaji.
Attending a series of work and craft projects in small groups, they expressed their creative talent in the art class in which they had 'fun with 3D art.' The other sessions dwelt on the pros and cons of using digital applications; how to behave; inner and outer environment; first aid and emergency handling; singing and playing of Cosmic Chants; and the fundamentals of communication.
In the series of evening programmes on four of the days, the boys watched a video show on Gurudeva, competed in a presentation on Indian saints, tested their knowledge on the Autobiography of a Yogi in a quiz, and also met with the monastics to resolve their queries. The meeting with YSS sannyasis was a unique platform for these young people to explore the answers to their numerous questions on different aspects of life.
They had early morning classes on yogasanas, followed by Energization Exercises and group meditation. With prayers, brief meditations and affirmations, they were encouraged to imbibe the priceless lesson of communion with God and Guru.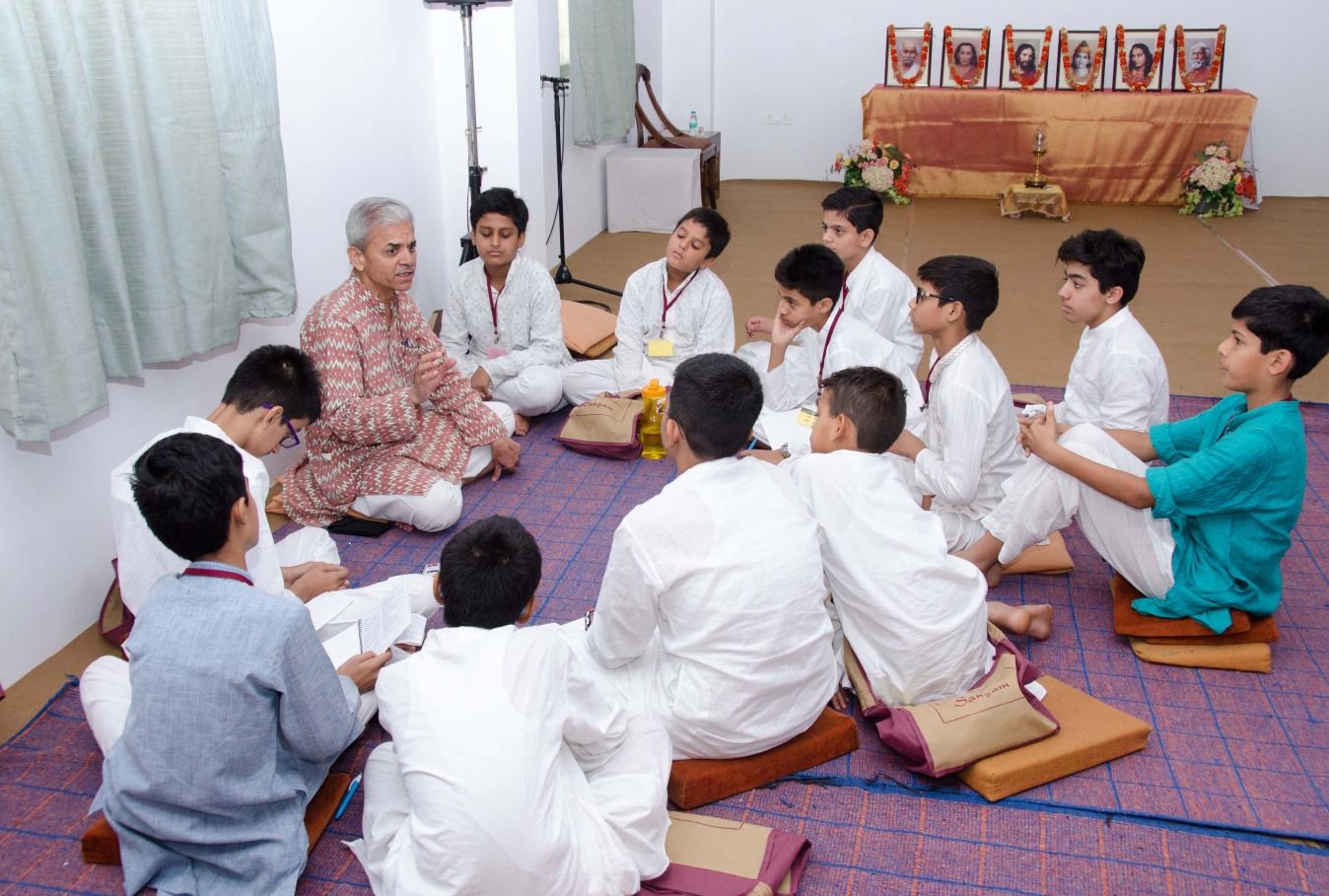 As evening approached, the enthusiastic lot set out for their much-awaited sports hour, where they played football, dodge ball, etc.
In a session titled Comments and Compliments' discussing their review of the programme, the kids read out their 'letters to God and Guru' which they had penned during the camp. Describing it as a wonderful opportunity for the boys to express their divine thoughts, they were appreciated for their deep insight and thoughtfulness for others – the specially-abled, plants, birds and all living things.
The final day of the programme was packed with spiritual and fun activities for the young participants. Beginning with prabhat pheri, an entourage of the boys lovingly carried a small palki adorned with a decorated picture of Gurudeva Paramahansa Yogananda. Led by the sannyasis, they sang kirtans and joyously took turns carrying the palanquin across the ashram campus. The closing ceremony which included a brief meditation and chanting was conducted by Swami Smaranananda, which was followed by his satsanga. He asked them a simple question: "Who is your biggest well-wisher?" The participants came up with different responses. With the aid of anecdotes from his own childhood, Swamiji shared that it was their parents, whom they should obey and follow, as they were their most precious gifts from God.
In the evening, a cultural programme was organised to conclude the camp. It started with a prayer and chanting by some of the participants, followed by the performance of Yogasanas learnt during the camp, a skit on Guruji's Kashmir Visit with Swami Sri Yukteswarji, and an awe-inspiring dance performance on Sri Ram Stuti. Swami Vasudevananda thanked the gathering of children, parents, volunteers as well as other devotees, and presented souvenirs to the participants, bringing the how-to-live camp to a close.