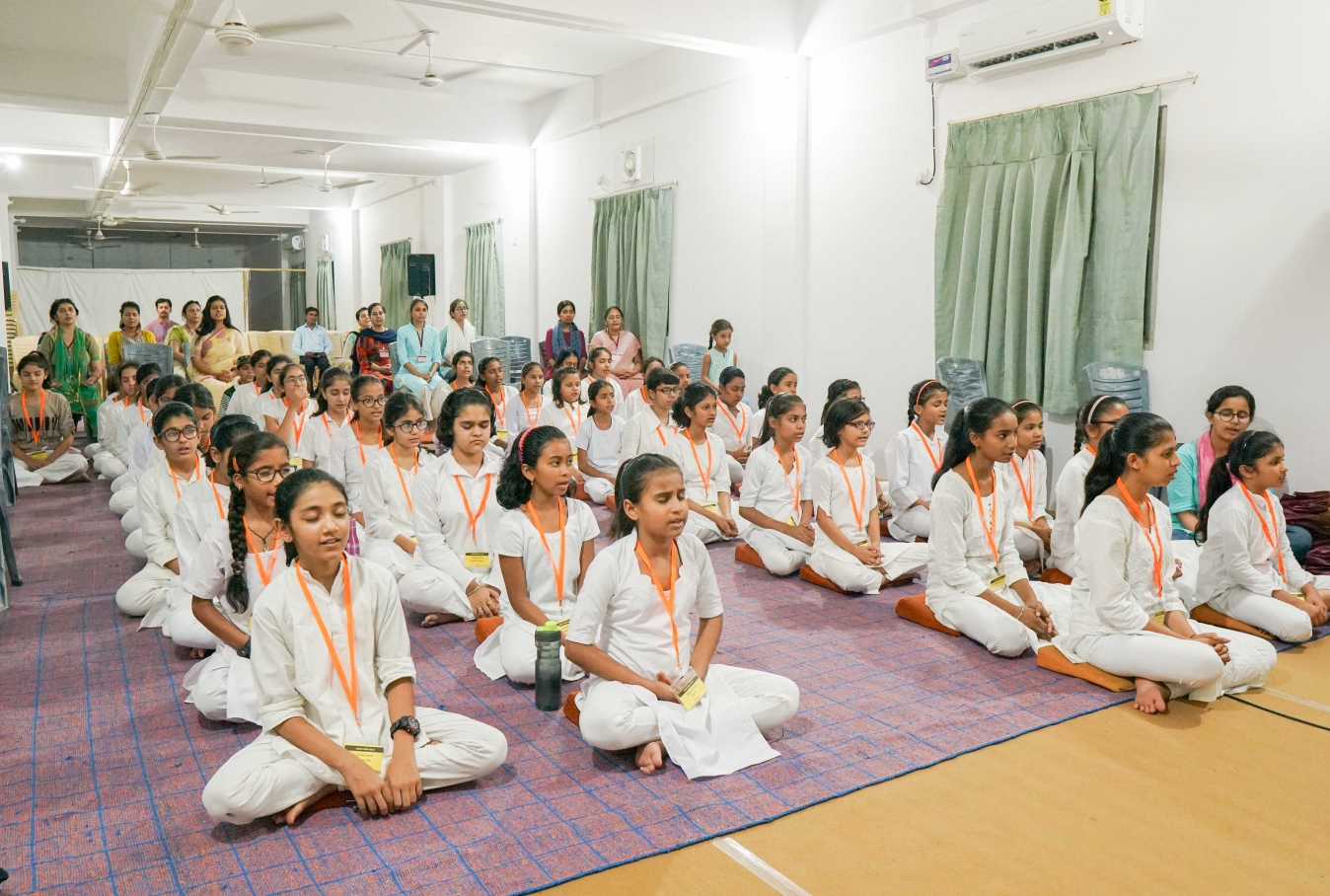 Paramahansa Yogananda said, "Wherever different minds meet in the spirit of fellowship, there we find a great harmony peace and happiness."
Displaying this spirit of fellowship, 48 girls from YSS families residing in north Indian cities attended the fourth annual Girls' summer camp organized by female volunteers at Noida Ashram. The five-day camp was conducted from June 5 to 9, 2019.
The young participants got an opportunity to learn and practice the 'How-To-Live' spiritual principles of Sri Sri Paramahansa Yogananda.
The camp participants were divided into four groups named after the popular Indian rivers – Ganga, Yamuna, Saraswati and Narmada. Each group was led by a senior lady devotee acting as the 'house mother' assisted by two younger lady devotees who acted as the 'big sisters' of the girls during their Ashram stay.
Beginning their day with Yogasanas, the children proceeded to participate in a morning group meditation session which also included chanting. In the next session titled Guru Katha, they heard inspiring stories from Gurudeva's life mentioned in the Autobiography of a Yogi, and in Mejda. The story-telling was made interesting for the young audience with the use of kirtans and japas.
The girls also got a wonderful opportunity to learn a variety of skills in the camp, through craft and work projects conducted by expert volunteers. These included: first aid and emergency handling, basics of chanting, dress designing, fun with flowers, simple cooking, and pros and cons of digital applications. Herein, among other things they learnt how to prepare a photo frame fixed with Guruji's picture, to prepare garlands for Gurudeva, and even how to conduct themselves in different situations during a class titled 'Learn to Behave.'
During one of the evening programmes, they were shown a video on Paramahansa Yoganandaji, and on another day, they made a presentation on the saints and sages of India which had been prepared by them ahead of joining the camp. An overwhelming majority of the participants dressed in representative costumes gave confident introductions through dialogue delivery or singing the compositions penned by the various saints whose roles they were enacting. Another day was reserved for a quiz on the Autobiography of a Yogi which was based on a study of the chapters 'My parents and Early Life' and 'Two penniless Boys in Vrindavan.' This quiz ensured that the girls spent most of their free waking hours reading the spiritual classic penned by Guruji. On the final day, they got an opportunity to meet with YSS sannyasis, pose their questions to them, and receive satisfying answers. At the end of these sessions, they received lamps with camphor as gifts symbolic of inspiring divine awakening in them.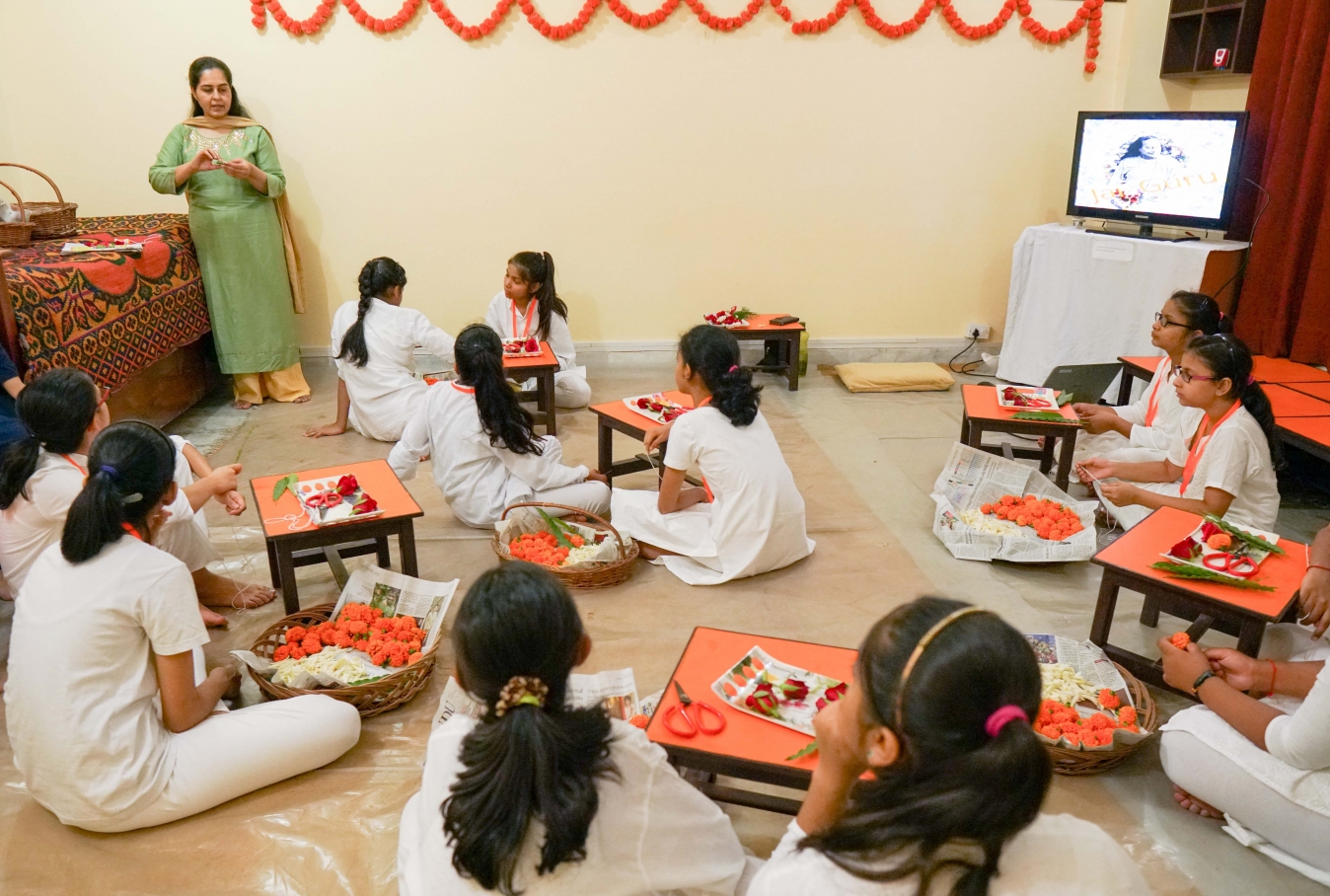 The camp especially included 'How-to-Live' classes on 'Why and How to Meditate,' 'Banat Banat Ban Jaye,' and "I am growing," as well as a review of the Energization Exercises. During these classes, the participants learnt value-based teachings of Paramahansa Yogananda through many interesting stories. In the class titled "I am Growing," they were guided on how to deal with the challenges of body and mind while passing through their teens. In a counseling session after this class, lady doctors helped them resolve their personal queries.
Despite the unrelenting heat of the north Indian summer, the enthusiastic lot participated in the evening games and fun. During their meal times, they were served delicious and nutritious food of their choice, in addition to the numerous drinks breaks to recharge their bodies with fluids along with their activities.
The final day of the camp began with a brief session of chanting and meditation, followed by a host of indoor games that most of them thoroughly enjoyed. A slide show capturing glimpses of the camp was screened for them. In the evening, a cultural programme with performances presented by the skillful participants was organized.
The girls received a warm send-off with the message that their parents were their sincerest well-wishers whom they should respect, and they must regularly practice meditation along with right activity which they had been introduced to during the camp.
Here are a few comments from the parents of the attendees:
"My daughter learnt so many things from the Ashram. It was an amazing experience for her. And from what she learnt there, she is trying to follow those things at home."
"My daughter attended the girls' camp for the first time. Initially, she was reluctant to join, but at the end of five days, she was sad to leave the camp."
"It is an experience these participants will cherish all their lives and they shall be in direct blessings of the Guru. I think this camp reflects the ideal summer camp for all kids in India."