Yogoda Satsanga Dhyan Mandli, Hisar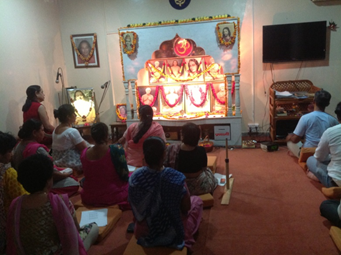 Yogoda Satsanga Dhyan Mandali, Hisar was formed in the year 1994 by a group of five devotees. Now with Guruji's grace, there are about 200 members out of which about 40 members are active and participate in various activities of Mandli. In the initial years of its establishment, meditation used to be conducted in the homes of various devotees but now there is a separate meditation hall in the basement area of Dr. Satish Jawa's residence who magnanimously takes care of maintenance of the hall with love.
The regular group mediations are conducted on Sundays and Thursdays. Besides this, long meditations are conducted on various occasions like Guruji's birthday, Christmas etc. for 6 to 8 hours.
There is Guru langar on Gurujis birthday. On the occasion of Guruji's birthday, various service activities are conducted like medical camp, distribution of books/uniform in schools, providing scholarships to needy students etc. Monks from Ranchi visit regularly from time to time and review yogoda techniques of devotees.
The first kriya ceremony was held at Hisar in 2013. About 100 devotees attended the three day programme organized by Yogoda Satsanga Dhyana Mandli, Hisar in the serene environment of Community Centre, Patel nagar, Hisar from March 30th to 1st April, 2013. YSDM hisar was fortunate to have been blessed with the presence of Swami Krishnanandaji and Br. Dhairyanandaji. All three days were full of peace and bliss. Spiritual discourses and chanting by Swami ji and Brahmchari ji evoked devotion and love for God and Gurus.
In the first two days, the programme included review of energization exercises, Hong sau, Om technique, group mediations and satsangas. Many devotees had personal counselling and were greatly benefited by it. Video show on Guruji was also shown on 30 th March. There was guided long meditation on 31 st March. Devotees were benefited from the divine vibrations during the congregations, which had the lovable presence of Gurudeva.
On 1st April 2016, there was Kriya initiation ceremony. It was an unforgettable divine experience where all devotees tangibly felt love and blessings of Gurudeva. Kriya initiation was given to 18 new members and thirty kriyabans attended Kriya diksha ceremony. Gurus' presence was very much evident on that auspicious day.