To commemorate Guru Purnima and Mahavatar Babaji Smriti Divas, a special cultural programme was conducted by Children Sunday Satsanga of YSS Noida Ashram at the Ashram auditorium on July 23, 2017. Over a hundred kids and fifty devotees attended the programme.
Opening the programme with a prayer and chanting, volunteers conducted the event with enthusiasm, and drew active participation from the young audience. A short cultural show performed by the little ones of Gurudeva followed.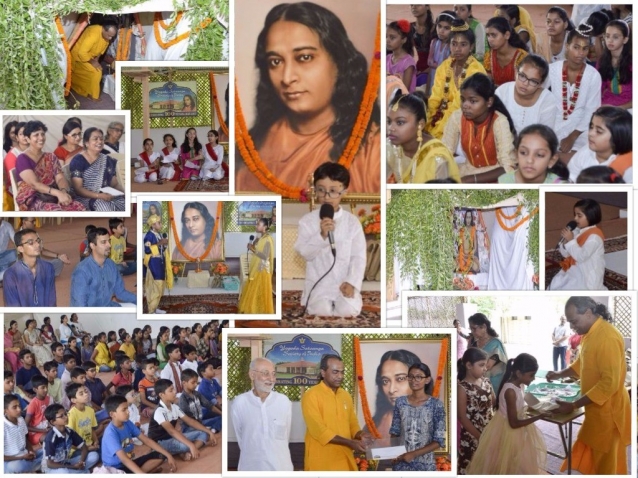 During the commemoration, students from Paramhansa Yogananda Swarna Bal Vatika (PYSBV) joined the kids from YSS Noida Ashram's Children Sunday Satsanga to present entertaining performances. These included: mantra-ucharana (recitation of chant) in Sanskrit by a small boy, bhajan by a group of children "le lo charan sharan mein Guruji" and a skit by the children of PYSBV on the life of the great king Janaka representing the grace of the Guru and his significance in a disciple's life. In a separate play, the talented little performers depicted the momentous meeting of Gurudeva, Sri Sri Paramhansa Yogananda with Paramguru Mahavatar Babaji – which is marked as Mahavatar Babaji Smriti Divas by YSS.
The highlight was the recreation of beloved Babaji's secret cave in the Himalayas – through a tableau in the Pandal. Children queued up outside the grotto to offer obeisance to the great Paramguru Mahavatar Babaji whose life-size portrait was placed inside this "cave".
Tina Pal, a student from PYSBV, was felicitated on this special occasion for her exemplary performance in the recent CBSE standard 12 examinations and her consequent selection in a B. Tech. programme in an engineering College located in Greater Noida. She received a cheque of 25,000 rupees from Brahmachari Sheelanandaji as scholarship on behalf of Yogoda Satsanga Society of India (YSS).
Brahamachariji inspired the young participants of the programme to read the Autobiography of a Yogi. He encouraged them to read the Spiritual Diary regularly and also to make it a habit to sit in silence connecting with God and Guru in order to lead a successful and happy life.
A blend of spiritual entertainment and inspiration, the event closed with pushpanjali and distributon of Prasad and gifts to Guruji's "little ones."